Virtual TimeClock Support Blog
---
Enhanced Program Logs in Virtual TimeClock 18
Virtual TimeClock not only tracks when employees clock in and out, it also records timecard changes made by managers and administrators as well as all user and program errors. These program logs are especially helpful when you want to know who made an edit to a timecard, entered vacation leave or even if someone got an error message when they tried to clock in. Virtual TimeClock 18 expanded and improved program logs making it easier than ever to review changes and potential issues.
What is a Program Log
A program log is a simple, text-based, historical record that can be accessed by all administrators and any managers who have been given access.
When to Use Program Logs
Virtual TimeClock records a variety of actions and errors that can be used to review time clock activity. Below are just a few of the actions stored in the program logs:
When administration mode is turned on and by whom
When timecard or leave entries are added or edited and by whom
When payroll is closed and by whom
When a timecard is electronically approved and by whom
When an entry is deleted and by whom
When a user is clocked in while in administrant mode
Timestamp of when a user attempted to clock in, but was prevented because of shift settings
How to Access Program Logs
Program logs are saved and displayed only on the computer that made the changes. For example, if you have the Network Edition and you want to check on changes a manager made, you must access the program logs on the manager's computer. Audit Logs record any changes to the time clock while Error Logs record any errors users, manager or administrators receive while using the time clock.
Follow the steps below to access program logs for your version:

Basic Edition
Windows users navigate to: Local Disk (C:) > ProgramData > Redcort > VTC > Basic Logs
Mac users navigate to: Macintosh HD > Library > Application Support > Redcort > VTC > Basic Logs
Pro Edition
Select Turn Administration On from the File menu.
Select Program Logs from the Configure menu.
Network Edition
​Open the Virtual TimeClock Server Manager program.
Select the Logs tab from the toolbar.
Note: For Network Edition users, you can also access individual Pro Client and User Client logs. To access Pro Client logs, follow the steps for the Pro Edition above and look for the Pro Client logs folder. To access User Client logs, follow the steps for the Basic Edition above and look for User Client logs folder.

How to Understand Program Logs
Below is an example of what the Audit Logs look like when a timecard entry is edited. In the example below, Jim Woodworth changed the start time of a timecard entry for Tom Cole.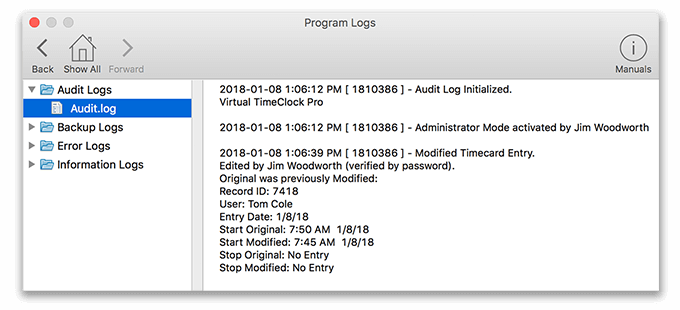 Below is another example of what the Audit Logs look like when a leave entry is added. You no longer need to wonder which manager added a leave entry for a user.