Virtual TimeClock Support Blog
---
Customizing Time Clock Report Dates
The Report Writer is a great tool for customizing the different timecard reports that are built into your time clock software, or for creating new ones. You can change report options, formatting, and even what data to include. If there's a particular report you run often, you may want to set the default date range so you're not always having to change it at run time.
For example, let's say you've created a custom report called 'Last Week's Labor Hours' but every time you run the report you have to change the date range from Current Period to Last Week. Here's an easy solution. Go to the Reports menu and choose Report Writer. Choose the report you want to customize from the list of reports on the left. You'll see a Default Date popup menu at the top, right below Report Name and Report Type. It probably says Current Period. Click on it and pick Last Week from the selection list.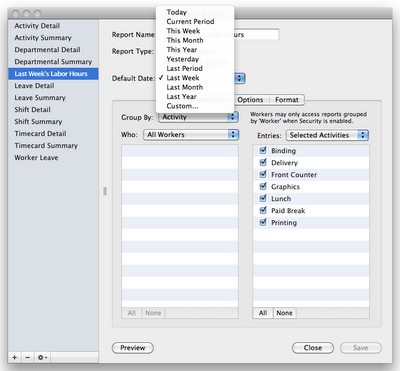 ​Save the changes and now whenever you run the report the date range will automatically default to the previous week. This is just a small example of what can be done with the Report Writer, so don't be shy about exploring some of the other options.