Virtual TimeClock Support Blog
---
Control Automatic Updates For Group Time Clocks
Keeping Virtual TimeClock up-to-date is important, but there are certain situations where you may want to prevent your software from checking for updates and displaying a notification. If you have a group time clock you may not want an update notification interrupting your users, or you may not want employees updating software on company computers. This blog will show you how to turn off automatic updates.
How to Turn Off Automatic Updates
Automatic updates are enabled by default. Follow the steps below to turn off automatic updates:
Select Preferences from the Edit program menu on Windows or the Virtual TimeClock program menu on Mac.
In the Preferences window, uncheck the box next to Automatically check for software updates.
Close the Preferences window to save this change.
Note: Turning off automatic updates only affects the computer where the change was made.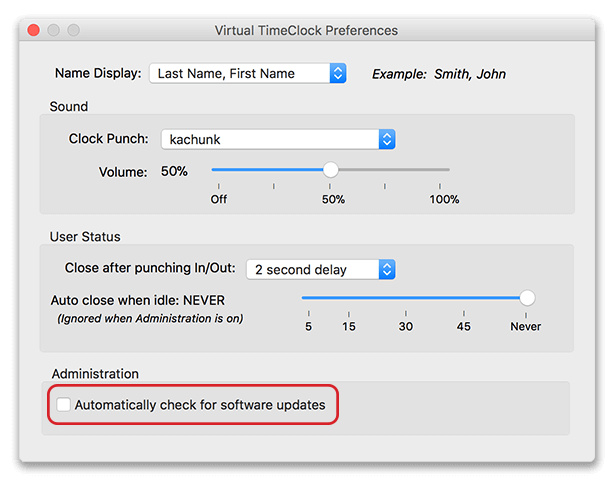 In addition to changing the preferences, users can choose Skip This Version when prompted to install an update. The Skip This Version button will only prevent update notifications for the current update. The Remind Me Later button will prompt you to update the next time you open the Virtual TimeClock program.

Checking for Updates
With automatic updates turned off, you can still manually check for updates at any time. How to check for software updates >