Virtual TimeClock Support Blog
Concurrent Connection Limits on Windows and Mac
Windows and macOS desktop operating systems limit the number of other computers that can simultaneously connect to a given computer. From time to time, we hear from a Network Edition user experiencing connection difficulties related to these operating system limitations. This article will explain concurrent connection limits and how they may impact your employee time clock installation.
Note: In Virtual TimeClock, connection limits are only relevant to your TimeClock Server computer. This is because the TimeClock Server allows multiple other computers to connect to it for time clock access.
Concurrent Connection Limits
Network connections can be used for file sharing, printing services, and in our case, Virtual TimeClock. Older operating systems have stricter connection limitations than modern operating systems. Windows XP, Vista and older macOS operating systems are all limited to 10 concurrent connections. Modern versions of Windows (7, 8, & 10) and macOS allow up to 20 concurrent connections.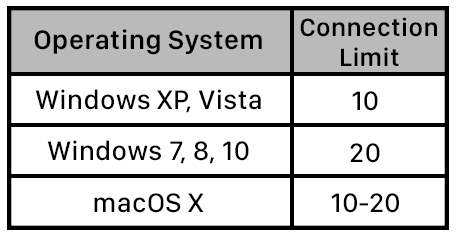 Note: Server operating systems (e.g. Windows Server 2019) do not limit the number of concurrent connections.
Virtual TimeClock
Virtual TimeClock does not have a limit on concurrent time clock connections, however, like all software, our applications are subject to the limitations of your operating system. If your Virtual TimeClock Server is installed on a computer with a desktop operating system, and you experience client connection failure, you will want to move the TimeClock Server to a computer that is running a server operating system and can handle more concurrent connections.
Note: Consult your IT professional for more information about implementing a server operating system.