Virtual TimeClock Support Blog
---
Add Bonus Days with Leave Carryover
Are you looking for a way to give employees extra vacation or bonus days? Using carryover hours is a great way to handle that situation. Since each leave award category in your time clock software has its own carryover hours, you don't have to worry about affecting the balances of other leave categories when making adjustments.
In this example, Gary has received an extra day of vacation without having to figure out a new calculated award.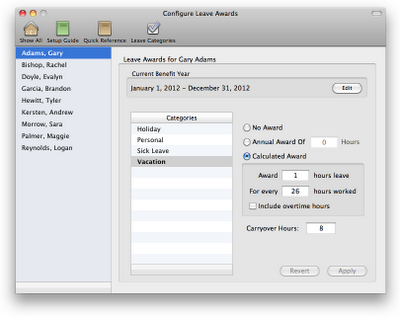 You can also use carryover hours to adjust leave balances if you allow employees to borrow against the vacation balance of the next benefit year. All you have to do is enter the carryover hours as a negative amount. And remember to use the Accrued and Used Leave report to check employee leave balances at anytime.