Company Blog
---
Virtual TimeClock 14 Coming Soon!
As the final testing for the latest Virtual TimeClock release is winding down, I've been able to spend some time checking out the new features and functionality. The first thing I noticed was the updated user interface. New icons and colors add a modern look and feel. It just seems sleeker, like a new sports car. Here are some highlights of my 3 favorite new features that I think are going to be huge hits with our customers.
You can now increase the font size of the employee list when using the in/out board interface. I think this is going to be a huge benefit for customers using touch screens, especially with some of the smaller full service tablets that are out now.
There's a new full screen mode that works with the in/out board list, PIN, and Passcode interfaces. This allows you to deploy a group time clock and hide all the clutter and distraction caused by revealing the entire computer desktop.
There's a new elapsed time column in the in/out board list that makes it easy to track time spent on current activities. This is a great tool for keeping an eye on when employees should be going on break or finishing up a project.
There are plenty more, but this will give you a taste of what's coming. We'll let you know when Virtual TimeClock 14 is ready to go, but let me leave you with a couple of screenshots to whet your appetite.
Here's the Administration window.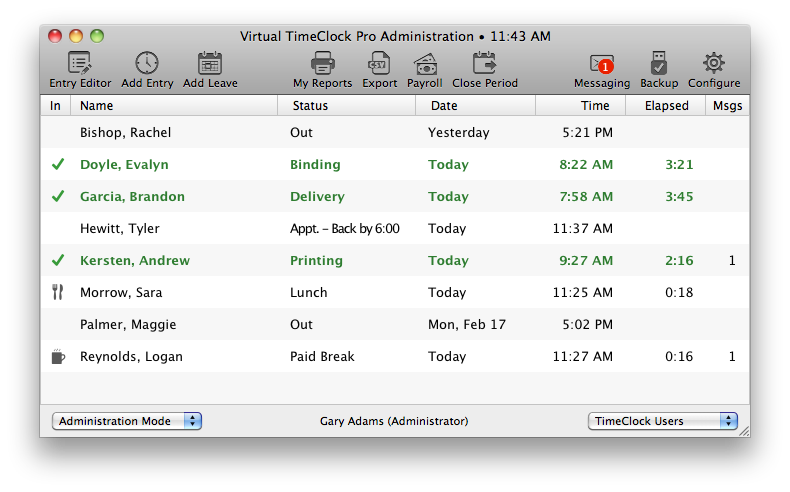 And here's a shot of the User Status window.
​