Company Blog
---
Simplify Payroll By Integrating Virtual TimeClock With SurePayroll
If you're considering implementing a payroll service or switching your current payroll provider, we want to take a moment to recommend SurePayroll®1. Continue reading to find out how you can save time, money, and increase efficiency with payroll integration using SurePayroll.



Save Time and Money with Payroll Integration
Payroll integration simplifies your payroll duties, ensures accurate payroll by eliminating errors, and saves time by enabling you to electronically transfer time clock hours and data from Virtual TimeClock to your payroll provider. Payroll integration is a free, one-time set up within the Virtual TimeClock program.


Get Started with SurePayroll For Time Clock Integration
Redcort Software has developed a special partnership with SurePayroll for payroll integration with Virtual TimeClock. SurePayroll is the payroll company of choice for thousands of small businesses nationwide, providing intuitive, easy-to-use payroll services backed by friendly customer service. We love working with SurePayroll and recommending their product to our customers.



Follow this link to get a quote from SurePayroll with special pricing for Virtual TimeClock users.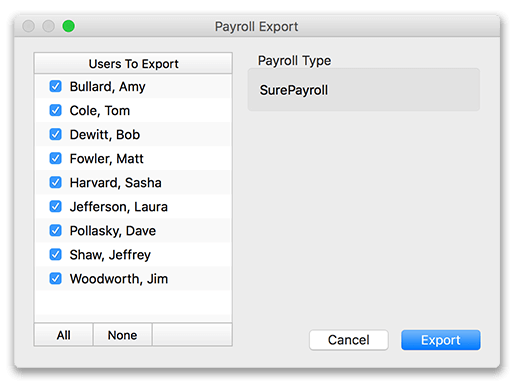 1. SurePayroll is a trademark of Paychex, Inc. Redcort Software is not affiliated with Paychex, Inc. in any way.