Company Blog
---
Alternative to Lathem PayClock
Recently we've heard from quite a few companies who are looking to replace their Lathem® PayClock®1 V6 desktop time and attendance software. In February of 2018, Lathem discontinued development and sale of their desktop software and officially ended technical support in December 2018. Lathem now offers their cloud-based PayClock Online software for a monthly subscription fee. This leaves PayClock V6 customers with a decision to make: switch to PayClock Online for a monthly subscription or find a new time clock solution. If you'd rather not pay monthly for time clock software, you will be happy to hear that Virtual TimeClock offers modern, easy-to-use time clock software for a one-time cost.
Monthly Subscription vs One-time Purchase
PayClock Online plans begin at $25/mo for up to 10 employees. That's $300 every year, assuming there are no price changes. Virtual TimeClock Pro Edition is a one-time cost of $195 which includes unlimited employees on a single time clock computer. If you need your time clock available on multiple computers, Network Edition pricing starts at $365 as a one-time license purchase. Learn more about renting vs purchasing time clock software.
It can be tempting to look at the lower monthly fees of subscription software and assume you're getting a good deal, however, as with all business purchases, TCO (total cost of ownership) should be a primary consideration. At Redcort Software, we believe you shouldn't have to pay endless subscription fees for a mature, feature-rich time clock unless you want to. Find out more about Virtual TimeClock by starting a free trial today. No credit card required.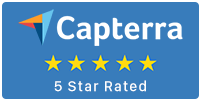 1. PayClock is a registered trademark of Lathem Time Corp. Redcort Software is not affiliated with Lathem Time Corp. in any way.