Company Blog
---
5 Ways to Use Virtual TimeClock Notes
Adding user notes in Virtual TimeClock is a great way to discreetly and securely keep a history of important employee information. Here are 5 ways that user notes can help you manage your employee time and attendance.
1. Record HR Related Data
If you need to record notes regarding employee wage changes, certifications, or performance evaluations, user notes are a great way to ensure that only administrators and managers have access to them in one convenient place.
2.  Document changes to accrual rates
If you are changing the accrual rate for an employee's leave award, don't just edit the rate. Make a note of when it was changed and why it changed in the user's notes. This enables you to save important historical information for future reference.
3.  Log changes to the Carryover Hours field
When an employee's accrued and used leave hours need to be changed, often updating the Carryover Hours field is the most convenient method for applying the changes required. When this is necessary, the user notes can keep a record of when and why the change was made.
4.  Employee Information Changes
When an employee has a change of address, surname change, new phone number, or an updated email address, save the previous information in their user notes. This is a great way to keep a history of past information for easy reference.
5. Discreetly keep notes about manual timecard entries
When an entry note is created on an employee's timecard, that entry note will appear on the employee's timecard report. When confidentiality or discretion is needed, User Notes enable you to record a note about a timecard entry that won't show up on any employee-accessible reports.
Accessing User Notes
User notes are made available by default to all TimeClock administrators. To access user notes within Virtual TimeClock Pro or Virtual TimeClock Pro Client:
Select Turn Administration On from the File menu.
Choose Users from the Configure menu.
Select a user from the left-hand column in the Configure Users menu and select the Notes tab to reveal the notes entry field.
After entering your notes select Apply from the lower right-hand side of the window to save your notes.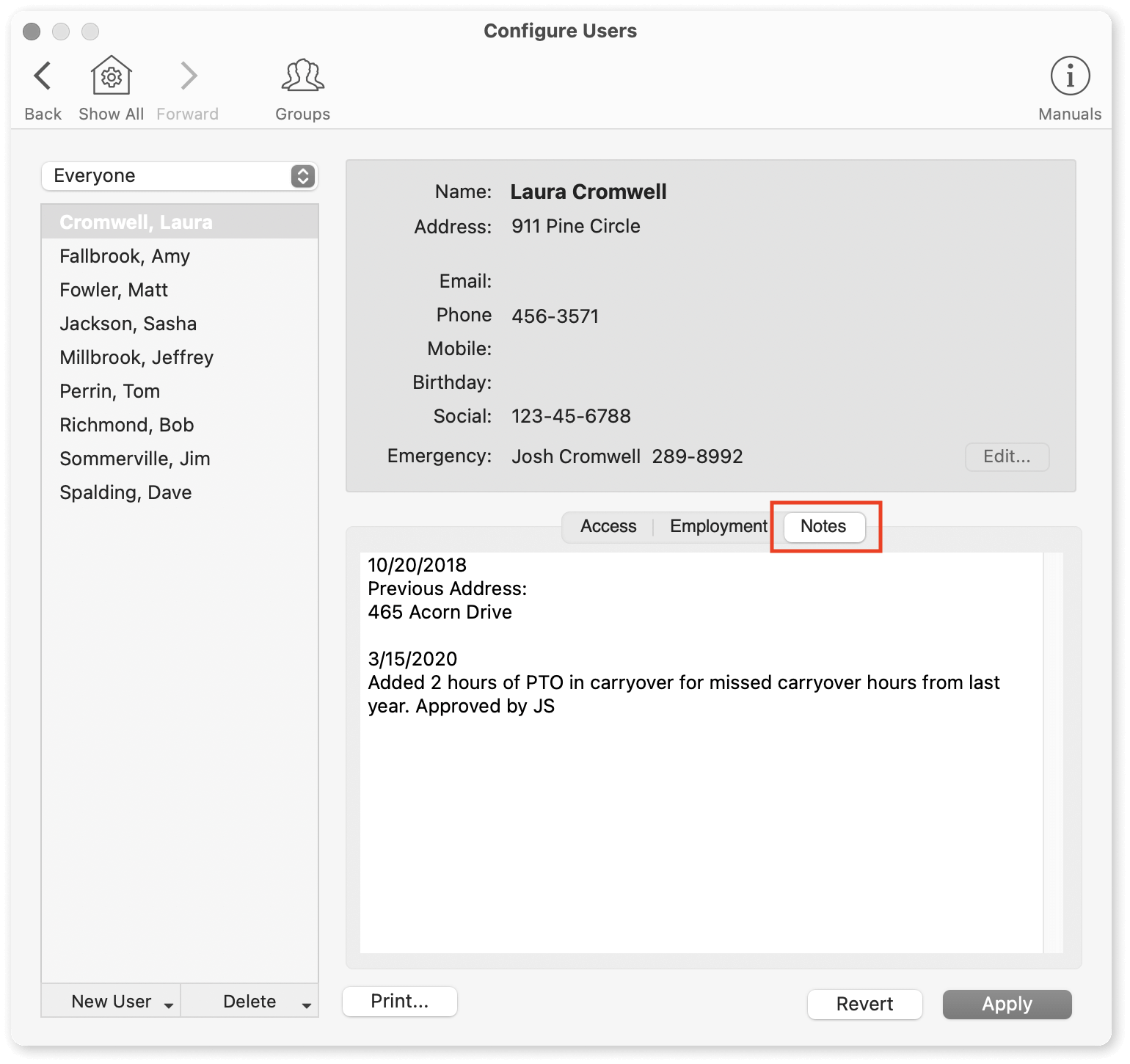 Do you have any questions about user notes, or need assistance with Virtual TimeClock? Contact Us through our technical support form. We're here to help!